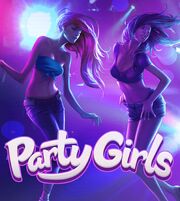 Party Girls, written by Rachel Maude, is a finished Comedy/Romance story published in the Comedy section. "Party Girls" has 54 episodes on the app.
App Summary
Old Version
You're invited: to dance in dresses, flirt with gorgeous guys, and party like a rock star. Why? It's your job...
New Version
When your job is to flirt with gorgeous guys, wear sexy outfits and party all night, nothing could go wrong... right? [COMPLETE]
For more information on this story, the sequel and sneak peaks on future episodes, follow @dearmissmaude on Instagram.
Ad blocker interference detected!
Wikia is a free-to-use site that makes money from advertising. We have a modified experience for viewers using ad blockers

Wikia is not accessible if you've made further modifications. Remove the custom ad blocker rule(s) and the page will load as expected.