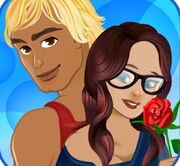 "Brother My Brother" is a Romance/Drama story on the Episode Interactive: Choose Your Story app, written by Judith Light.
App Summary
Toronto gets quite a surprise when movie star & heartthrob Aiden Erendale becomes her stepbrother! Can she control her life in the face of instant fame?
Plot
The main character, Toronto Hale turns on the TV after she saw an Aiden Erendale movie with her best friend. On the news, she sees her dad, next to Ashley Erendale (Aiden's mom) and that they are getting married. Shocked, she realized she'll have her favorite actor as her stepbrother. Will they start a romantic relationship or remain just friends?
Characters
Main Characters
Toronto Hale - The main character of the story.
Aiden Erendale - Actor and Toronto's stepbrother, and (spoiler) can be Toronto's lover. He begins to date her and the player can choose to be either just friends or officially dating.
Lydia/Liddie - Toronto's best friend; they are like sisters.
Side Characters
Ashley Erendale - Aiden's mom and Toronto's stepmother. It is later revealed exactly why she married Toronto's father.
Toronto's Dad - Ashley's husband. He marries Ashley when Toronto's mom is long "gone."
Toronto's Mom - People claimed she died when Toronto was little. However, that isn't exactly the case...
Tyrone - Lydia's friend. He becomes her boyfriend.
Suzanne Collins - Aiden's friend since they were kids. She has feelings for Aiden, but he doesn't reciprocate them.
Jamaica "Jamie" Ultear - Famous when she was a kid, she becomes Toronto's good friend when the family moves to Nexus City.
Wicca - Toronto's friend and roommate at college.
Toronto's College Classmates - Friends and Karaoke Mates.
Gallery
Ad blocker interference detected!
Wikia is a free-to-use site that makes money from advertising. We have a modified experience for viewers using ad blockers

Wikia is not accessible if you've made further modifications. Remove the custom ad blocker rule(s) and the page will load as expected.